Clinic description
AlbusDent is a modern dental clinic and X-Ray lab located a 15 minute drive from the John Paul II International Airport Krakow-Balice. Air-conditioned and modern interiors welcome guests who seek dental care from around the world.
Clinic overview
The clinic's experienced team of professionals work with international patients on a daily basis. These patients travel vast distances to obtain high quality treatments in: cosmetic dentistry, dental surgeries, implants, and orthodontics. Using advanced medical equipment, the team strives to carry out procedures with the utmost care and safety. To ensure maximum comfort during procedures, they utilize The Wand, which is a sophisticated computerized anesthesia system. AlbusDent clinic also offer treatments for teeth whitening and prosthetics.
Clinic location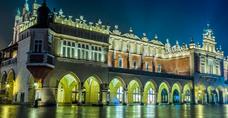 Krakow, once the capital of Poland, is one of the oldest and picturesque cities in the country. The city was named the European Capital of Culture for the year 2000 by the European Union. Krakow is home to over 25 museums and public art galleries featuring works such as ""Lady with an Ermine"" by Leonardo da Vinci and ""Landscape with Good Samaritan"" by Rembrandt. In addition to the museums, old European architecture and cultural history, the city also has a handful of famous theatres, with world class performances taking place year round. AlbusDent is located only a short drive away from the city center.
Clinic staff
Members of the professionally trained team of 17 at AlbusDent has studied at top universities such as Jagiellonian University in Cracow and at the Medical University in Lublin. The team is constantly expanding and modernizing their knowledge base through continued training and education. The dental team is made up of eight dentists, four dental assistants, and three radiologist technicians. Staff are fluent in Polish, English, French, German, and Russian.
Services
Online doctor consultation
Personal assistance / Concierge