The Plastic Surgery Clinic - ARTPLASTICA - is one of the biggest and the most modern private centre specializing in plastic surgery in Poland. The rank and reputation facility provides, inter alia, status of Non-Department of Welfare given by Governor of West-Pomerania. Artplastica Clinic is located in one of the most beautiful residential areas of Szczecin, in the favourable microclimate of the nearby Arkoński Forest. The beautiful surroundings and friendly interiors of our clinic ensure needed rest and relaxation during recovery.
Over 10 years of experience in plastic surgery
Around 5000 operations performed
Including nearly 2000 breast augumentations alone
Very high rate of satisfied patients (according to the TMG)
Our clinic employs only the highest quality medical staff with qualifications attested by scientific diplomas and certificates. All our doctors have a second degree of specialization in plastic surgery, are members of the Polish Society of Plastic and Reconstructive Surgery, and international scientific societies. Consultations in our clinic are held in three languages: Polish, English, and German. Procedures for health and safety were implemented by us with the patient in mind, whose interests we always put first. We are pleased that our efforts have been appreciated by independent certification companies, but the most valuable reward for us is the satisfaction and comfort of our patients.

Our Clinic again won first place in the Highest Quality competition at Quality International 2013 and earned the QI Golden Emblem.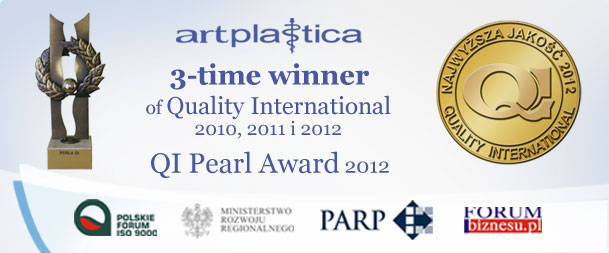 Artplastica Clinic is the only plastic surgery facility in northern Poland, that has the quality and safety of its services confirmed by an ISO 9001:2008 Quality Management System Certificate and PN-N-18001:2004 Occupational Health and Safety Management Certificate.

In 10 years we have earned recognition that reaches far beyond Poland's borders, as attested by numerous publications in newspapers, radio, and TV, as well as international press agencies, and leading magazines from around the world: U.S.A.: The Associated Press (CNN International, The Washington Post, Forbes, abc news), France: Agence France Presse (TV News), Liberation; Germany: Deutsche Presse-Agentur, Bild Zeitung, RBB Berlin; Great Britain: The Independent, Discover Poland; Finland: Helsingin Sonomat; Denmark: Ekstra Bladet.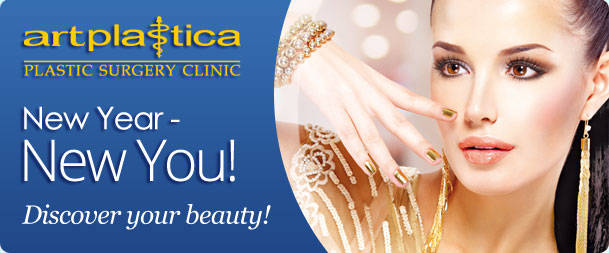 ---

Clinic - Personnel
Choose your doctor ! Each of our patients has a freedom of choice in terms of the surgeon
All doctors working in Artplastica provide their services within their individual specialised medical practice.
M.D. Ph.D. Tomasz Dydymski - Plastic Surgeon
M.D. Arkadiusz Kuna - Plastic Surgeon
M.D. Ph.D. Andrzej Krajewski - Plastic Surgeon
M.D. Ph.D. Monika Golanowska - Surgeon
M.D. Krystyna Szymala - Dermatologist
M.D. Arkadiusz Greczan - Anesthesia and Intensive Care Specialist
M.D. Małgorzata Zegan - Anesthesia and Intensive Care Specialist
M.D. Marek Zienkiewicz - Anesthesia and Intensive Care Specialist
---
Medical Tourism with Artplastica
Administrative services in Artplastica Clinic are looked after by fluent Polish, English, and German speaking professional staff.
We provide our guests the opportunity to request the organization of transport from the train station or airport.
Artplastica Clinic is just a 1 hour 20 min flight from London and only 120km journey from Berlin.
In our clinic we provide 24-hour care to all patients under the supervision of qualified medical personnel.
All rooms are equipped with post-operative, high-quality equipment that constantly monitors patient vital signs.
We offer our patients and people who accompany them accommodations in the hotel section of the clinic, in rooms equipped with a private bathroom, TV, DVD, Wi-Fi, and balcony (90% of rooms).
We provide guests with cars an enclosed, monitored round-the-clock car park.
Artplastica Clinic's reputation is confirmed by its 10 years on the medical services market. We pride ourselves on the trust and flattering opinions of the thousands of patients satisfied with our services, living in various parts of the world.