Guesthouse Villa Alina is a revitalized estate representing Viennese Art Deco style from the first decade of the 20th Century. Villa Alina is located in the heart of charming resort town - Polanica Zdrój - the town with rich history and legacy, where words: "rest" and "regeneration" are a motivational foundation of our Guests. Being fully aware of the region's success in the international tourism industry we present to You our estate that ideally fits into the characteristics of this remarkable place.
The Villa includes 16 stylish (2, 3 & 4 guests) apartments and one (6 guests) family apartment. Every apartment features fully equipped kitchen annex, wide screen TV with satellite channels, phone, high-speed internet access and stylish bathroom with walk-in shower or a bathtub. Villa Alina guarantees total intimacy.
Our guests can also use the Coffee Room, Bar and Club/Conference Room with the pool table as well as fully equipped Medical & SPA zone. Thanks to cooperation with an experienced team of aesthetic medicine doctors and a plastic surgeon, Villa Alina offers its guests a full range of treatments in the field of aesthetic surgery and broadly defined aesthetic and anti-aging medicine.
Beauty, Comfort and Relaxation is our passion that we are about to share with You.
SPA & Wellness Zone in VILLA ALINA
SPA & Wellness and Fitness Room are open 24/7 with free access for our guests.
Finnish Sauna
Steam bath
Infrared sauna
5 - seater jacuzzi with hot brine
10 - person whirlpool
Kneipp Path
Icefall
Stone and heated seats and couches with the function of phototherapy (Sonnenwiese)
Inside and outside recreation area with deck chairs surrounded by cascading plants
"Shower of Experiences"
SPA & Wellness Treatments

All treatments are performed using high-end devices in the field of cosmetology described below:
* ALL IN ONE Nilo Easy Beauty® - combines all the benefits of an ergonomic treatment bed adapted to perform a wide range of whole body treatments and a couch allowing for face treatments. Profile of the couch perfectly matches the anatomy of the body.

* Cosmetic Combine 18 in 1 ® is an innovative device. In addition to 17 basic functions it is equipped with innovative phototherapy technology. The range of functions includes: ozonotherapy, facial steamer, aromatherapy / herbal medicine, magnifying lamp, ultrasonoforeza, electroplating, vacuum, spray, brushing, diamond microdermabrasion, hot & cold head, d'Arsonval, face biolifting, Cavitation peeling, towel heater, UV-C tool, sterilizer, Wood's lamp, phototherapy

* Thermo-Spa Trautwein® has been designed to perform beauty treatments combining the warmth of water and its relaxing effect with the beneficial action of cosmetic products.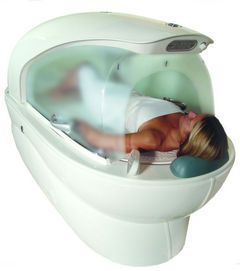 * NEOQI MEDIQ® Capsule - treatments using the capsule allow to cleanse the body of harmful toxins, soothe the skin, relax tensed muscles and nervous system. They eliminate fatigue, increase intellectual capacity and concentration. The capsule helps remove subcutaneous fat, thus helps in weight loss and gives your skin shine and glow. Treatments in the capsule are used for deep cleansing, firming and impart smoothness to the skin. Capsule treatments stimulate blood flow, clean the main channels of the body responsible for the flow of matter. The capsule is ideal for supporting the treatment of multiple diseases of the joints, bones, knees, shoulders and chronic pain conditions. It improves the immune system, thus increases the body's natural resistance to stress, viruses and external factors.

* ABRAHYDRI®Trans - based on Bio-Mega_Dermabrasio and ultrasound in a magnetic field. US-MAG head has a red or blue light, which enhances the effect of mesotherapy.
Treatments using Skin Jet abrasion:
- balancing treatment for oily skin (1 h) - 250 PLN
- rejuvenating treatment withTranshorma care line (with phytohormones) - 260 PLN
- soothing treatment withTranshorma care line (with phytohormones) - 250 PLN
- Repair anti-aging treatment - 270 PLN
* DERMATUDE® - Metaterapia. A new method of skin rejuvenation, moisturizing and skin restoration, slowing down the aging process of the skin.

* Velashape II - The new VelaTM platform offers reduced number of treatments necessary to achieve effects and a shorter duration of a treatment. Reduction of body circumference by 2 to 7cm. Effectiveness has been certified by the American FDA. The distinctive feature of VelaTM system is the ability to treat patients' very common problems connected with the growth of body circumference of the abdomen, thighs and buttocks after pregnancy. Despite diet and exercise an excess of adipose tissue and the lack of elasticity remains. Indications: reduction in body circumference, cellulite reduction, enhance effects of liposuction, improvement of the skin after childbirth, improvement of local circulation, easing pain and muscle tension.
Face & body treatments
Face treatments: moisturizing, cleansing, rejuvenating, soothing using ERICSON LABORATOIRE® and Phytomer® products.
Body treatments: satin body, zero cellulite, perfect firming, slimming treatment, oligomer.
Massages: classical, relaxation, aromatheraphy, Hot Stone as well as massages with herbal stamps.
---
Medical Zone

REVITA Wellness Center is a partner company closely co-operating with the VILLA ALINA in professional aesthetic medicine.
Aesthetic medicine
* Consultations
* IPL Ellipse
photorejuvenation
epilation
* Closure of spider veins by laser Nd:YAG
* Fractional CO2 laser
* Botox - Smoothing Out The Wrinkles
* Botox hyperhidrosis treatment
* Fillers
Hyaluronic acid
Radiesse
* Mesotherapy
* Hair loss (alopecia) treatments
* Anti-cellulite treatments
* Liposonix - alternative to liposuction
All treatment are performed using secure and reliable products of prestigious companies - market leaders in bio-technology. Extensive experience of medical personnel will be combined with the use of innovative technologies, including:

* LIPOSONIX® (alternative to liposuction)
* ELLIPSE®-laser IPL
* SECRET RF®
* CO2 FLAMING®
* Cryo – T COOLER®
* SAFE SYSTEM™
* Dermapen
* ABRAHYDRI® Trans
* DERMATUDE®
* DermaOXY®
* Velashape II
Our Specialists

Dr Piotr Drozdowski
Certified Doctor of Aesthetic Medicine

A graduate of the Post-Graduate School of Aesthetic Medicine PTL in Warsaw. He graduated with honors from the Faculty of Medicine of the Piastów Śląskich Medical Academy in Wroclaw, presented with His Magnificente Rector's prize. He completed his fifth year of studies at Uniwersita'delgi Studi di Perugia (Italy) under the Socrates – Erasmus scholarship. Since 2007 he has been working in the Clinic and Department of Plastic Surgery in Polanica Zdrój run by profesor Kazimierz Kobus (since 2008.) amd profesor Piotr Wojcicki (since 2008.) In 2008 he opened a specialization in plastic surgery. A graduate of the Post-graduate School of Aesthetic Medicine at the Polish Medical Association in Warsaw (2008.). He has completed many national and international internships in cosmetic clinics in Wroclaw, Perugia, Padua, Berlin and Debrecen.
A translator of lectures in the field of plastic surgery and aesthetic medicine in Italian and English. An author and co-author of over 20 scientific papers published in national and international reviewed medical journals. He has given speeches at national and international scientific conferences. He has participated in many scientific conferences in the field of plastic surgery and aesthetic medicine. "I am particularly interested in cosmetic and recostructive plastic surgery, modern techniques used in aesthetic medicine, microsurgery." Member of scientific societies, including Polish Society of Plastic, Reconstructive and Aesthetic Surgery; Polish Society of Aesthetic Medicine at PTL (Polish Society of Doctors), Polish Society of Surgery, Section of Microsurgery PTChir (Polish Society of Surgery).
Passionate about mountains and apline hiking, swimming, cross-country biking and mountain biking. Married, with two children, lives in Polanica.