Medical Consultations
We aim to provide our patients with the most professional level of care as they begin the journey to recovery and full health. For this purpose we have created centres of expertise within the hospital, bringing together teams of doctors whose knowledge and experience focus on particular medical specializations and specific injuries and ailments of the parts of the human body.
At the Carolina Medical Center you can make an appointment with specialists from various fields:
children and adults orthopaedics and traumatology
sports traumatology
rheumatology
neurosurgery
general and vascular surgery
haematology
neurology
anaesthesiology
children and youths sports certification
Diagnostic Imaging
Diagnostic tests, in addition to a clinical trial and interview, form the background to discovering the cause of the patient's complaint. A diagnostic imaging examination will be conducted by competent and experienced staff using a new generation of diagnostic tools.
The Carolina Medical Center's Diagnostic Imaging Centre is run by doctors specializing in radiology, ultrasound, magnetic resonance and scintigraphy. Their main focus is to broaden the understanding and diagnostic imaging of the motor organs.
The combination of knowledge and experience and the close cooperation between the diagnostic technicians, the histopathology specialists and the clinicians from the orthopaedic-rehabilitation clinic, results in the diagnostic services at the Carolina Medical Center being of the highest possible standard.

The Carolina Medical Center's Diagnostic Imaging Centre performs the following tests:
Ultrasound
X-Ray
Magnetic resonance
Computed tomography (3D)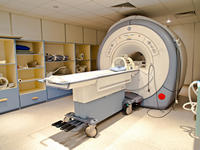 Our doctors participate in conferences, symposia and courses, both national and international, continuously improving their skills. The Carolina Medical Center allocates part of its financial resources to training for doctors and for the purchase of the latest reference materials and professional journals which are essential in these clinicians' daily work to stay on the cutting edge of their fields. Owing to a comprehensive approach and the most modern diagnostic tests and methods, our patients are able to return to full fitness and physical activity much faster than would have otherwise been possible.
Operations and Operating Theatres
We boast the most modern operating ward in Europe. We have got four operating theatres, each equipped with a special octagonal laminar air conditioning system which protects not only the patient but the medical staff as well from bacteria during the operation. With continuous flow of sterile air over the operated patient and operating doctors a perfect protection against infection is assured during surgery.
There are only four such systems in Europe and ours is the first and only in Poland. Since its beginning, Carolina Medical Center confronts its knowledge and actions with leading orthopedic clinics not only in Poland but also from Germany, Switzerland and France, where our doctors gained their experience.
We perform a wide range of operations, amongst all:
Joints' arthroscopy (knee, hip, ankle, shoulder, elbow, wrist)
Alloplasty (among other, first in Europe ankle joint alloplasty InBone; first in Poland BHR)
Hip, knee, shoulder replacement
Ankle joint stabilisation
The Carolina Medical Center's hospital is located on the 4th floor. There are 30 comfortable single and double bedrooms. The duration of stay in the hospital depends on the degree of treatment complexity and on the doctor's orders. The average stay is usually 1 - 2 days.
PHYSIOTHERAPY
Physical therapy (also physiotherapy) is a health profession that assesses and provides treatment to individuals to develop, maintain and restore maximum movement and function throughout life. This includes providing treatment in circumstances where movement and function are threatened by aging, injury, disease or environmental factors. It is one of the fields of contemporary medicine which develops dynamically as a result of scientific and technological progress. As a consequence, the majority of physiotherapeutic techniques came into existence only in the late 19th and early 20th centuries. Moving forward, technological advances with equipment (among others the application of laser, ultrasound, electromagnetic field, UV rays and IR, and electric current treatment) meant that physiotherapists had more information at their fingertips so as to apply tailor made rehabilitation techniques. At present, physiotherapy is a procedure which includes a lot of rehabilitative actions, amongst others: kinesitherapy, massage and physical treatment.
The primary aim of physiotherapy treatment is to suppress pathological signs and their after-effects, to prevent diseases and to restore the patient's fitness.
PHYSIOTHERAPY AT THE CAROLINA MEDICAL CENTER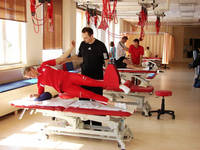 The Carolina Medical Center offers individual physiotherapeutic programs following the highest international standards. Our competent and experienced physiotherapy unit staff are required to constantly improve their qualifications and to develop their scientific expertise; to stay current with the latest in scientific breakthroughs; to participate in congresses and conferences and to take part in international internships. As part of their cooperation with the Polish Sports Traumas Association (PTTS), our physiotherapists act as academic teachers within the field of orthopaedic and sports rehabilitation.
We specialize in the rehabilitation of patients with sports related traumas and those who have undergone orthopedic operations. We provide specific rehabilitation for athletes, specifically tailored to meet the demands of the professional sportsman or woman.
As part of the agreement between the Carolina Medical Center and the Polish Olympic Committee (PKOl) our medical staff will be taking care of the Polish Olympic Team during the London 2012 Olympics and the Sochi 2014 Winter Olympics.

PHYSIOTHERAPY COMPETENCY CENTRES:
hand, elbow joint and shoulder
knee and hip joints
foot, ankle joint, Achilles tendon
spine
soft tissue
THERAPEUTIC METHODS OFFERED:

Kinesitherapy: exercises: passive, assisted, active, with resistance, proprioception, stabilizing; also: stretching, chiropractic, kinesi-taping, Master Therapy, mobilization of tissues
massage: classical, lymphatic, connective tissue
physical treatment: electrostimulation, ultrasound, iontophoresis, TENS, cryotherapy, laser;
as well as functional sports training
A physiotherapeutic class lasts for 60 minutes. The first meeting is held individually with the physiotherapist, the next — with a maximum of 2 patients. Modern operating procedures and up-to-date equipment enable us to commence treatment directly after the operation has been completed.
One of the Carolina Medical Center's key efficiency factors is the permanent Doctor supervision during the whole process of rehabilitation and his or her close cooperation with the physiotherapeutic team to see that the patient receives the utmost care. During regular meetings, every patient's therapy and progress is discussed. Consequently, recovery time is shortened to a minimum.
The physiotherapy Warsaw department also closely cooperates with the Diagnostic Centre for Physical Movement and Function, in which body functioning tests are conducted (so far applied to the evaluation of the strength potential of athletes and the possibilities of improving their training). The information from these tests is used to diagnose motor organ overloading effects and also for the assessment of rehabilitation effectiveness and possible alterations of the treatment program.
The physiotherapy room is about 530 square metres (5 705 square feet) in size and is equipped with the most modern tools for treatment and sports training, amongst these: a balance platform with biofeedback; a Red Cord system for joint stabilization and sports rehabilitation; a Power Plate; equipment for functional and forcible training and equipment for physical treatment.